Art
Visual Arts
 The Visual Arts programme of study aims to provide all students with an opportunity to express and develop their creative skills through a variety of media, techniques and processes over the two years they are at Taupo Intermediate. Students will be introduced to a variety of artworks by Māori, Pakeha, Pacific Island and international artists with both traditional and contemporary outlooks.
Inspired by the ideas and techniques of established artists, students will learn to use a range of equipment, materials, media, compositional devices and techniques to express and communicate their own ideas originally.
Learning artistic knowledge and skills is not the only focus. Students will learn to embrace challenges, persevere and learn from mistakes. As Kent Sidel said, "Art helps students develop key 'habits in mind' that include: higher order thinking, creativity, critical thinking and the ability to pose and solve problems, self-discipline and self-confidence. These skills are necessary for success in art and once learnt can translate to success in all areas of their lives.
Students who are particularly passionate about the Visual Arts will have the opportunity to pursue their ability through Art Club and other creative opportunities that arise e.g. scenery painting for the school production and local and national art competitions. 
Food
FOOD TECHNOLOGY
In Year 7 Food Technology students are introduced to the process of cooking and the steps needed to produce a product. They cover the basics of food and kitchen safety, the names and uses of different kitchen utensils, measuring techniques, basic nutrition and cookery terms. These skills are developed in more depth in year 8 as is the ability to follow the design process outlined below:
NEED – What is the need / opportunity?
RESEARCH – of the need or opportunity
GENERATE – ideas
PLAN and MAKE – creating, developing a prototype.
EVALUATE Evaluating if the product is fit for purpose.
Students are taught in tandem with the Key Competencies of Thinking, Relating to others, Using the correct language and symbols, Managing Self and Participating and Contributing (TRUMP)
Materials and Digital Technology
Students will take part in collaborative STEAM (Science, Technology, Engineering, Art & Math) challenges, in authentic contexts, and learn how to use a variety of technologies (Some may include: BBC Micro:Bit, Sphero, Makey Makey & Merge Cube) – including coding using Swift. Students will plan, assess, and keep a journal of their daily achievements, while learning the necessary skills to complete their projects.
Students are learning the key progress outcomes around computational thinking, and designing digital outcomes. Students will also learn these skills through a range of unplugged activities and through this develop their key competencies.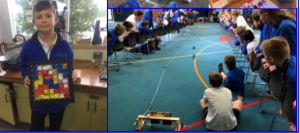 Soft Materials and Design
In Material and Design students learn how to use equipment and machines independently. They work through the design process to design and make a project for a particular use. Students document their learning in a daily journal and evaluate their progress at key stages. We focus on the key competencies of self-management and working together to achieve our goals. Students are encouraged and supported to achieve to their full potential by adopting the principles of a growth mindset.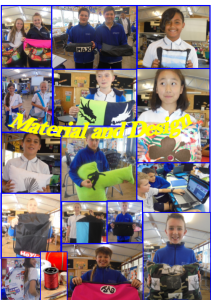 Science
In Science our students explore how the living, physical, chemical and universal world interacts with one another and the effects it has on humans and their environments, as well as the effects we as humans have on our planet.
Students will be involved in hands-on experiments, investigations, constructing of models and the science fair in term 2.
Year 7 students will be specifically focusing on science in their immediate and local environment, whereas Year 8 students will be looking into global science and trying to connect general phenomena's to scientific evidence.
With the latter in mind students will be able to participate as critical, informed, and responsible citizens in a society in which science plays a significant role.